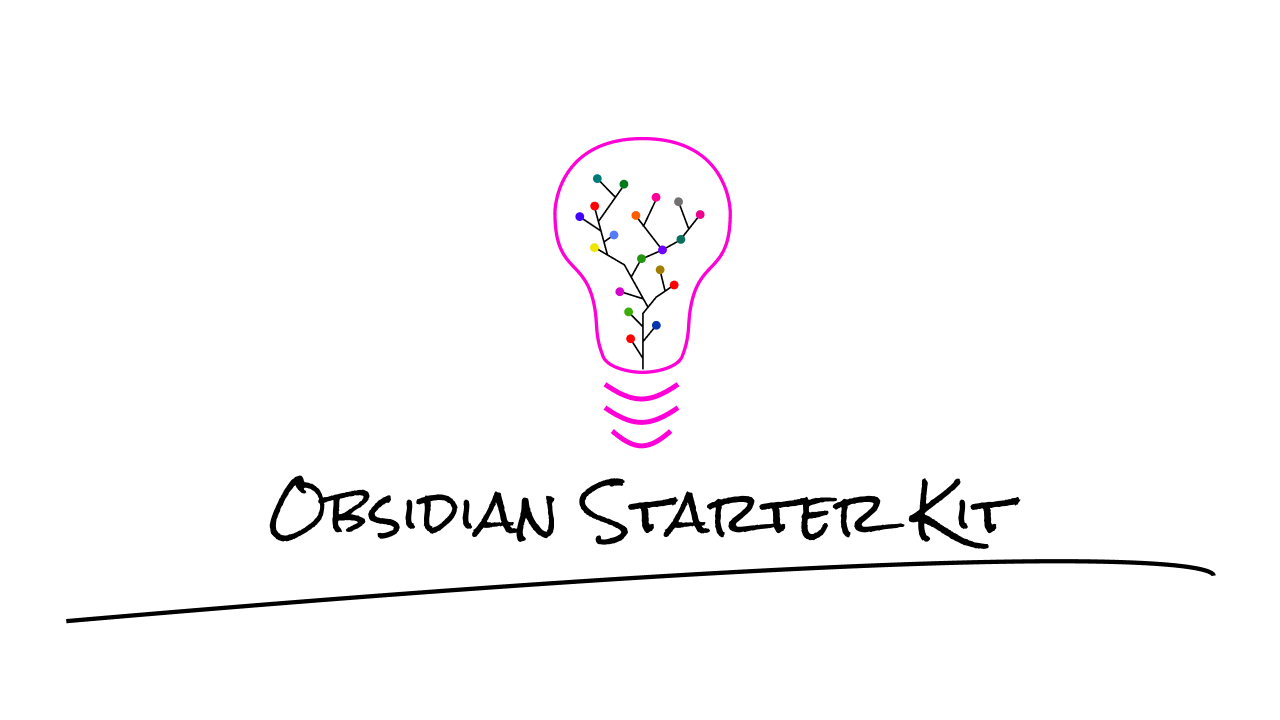 Jump straight to stress-free note-making with Obsidian
Getting started with Obsidian is not the hardest thing in the world, but it takes a lot of trial and error to figure out how to structure and organize your knowledge base. You have a busy life, and you don't want to spend weeks or even months figuring out the "right" approach.
Who is this for?
You are just getting started with note-taking or you've recently switched to Obsidian

You wonder how to take smart notes

You want to know how to properly organize your notes and avoid creating an overwhelming mess

You want a solid system that scales

You wonder what Zettelkasten, the PARA method, and the Johnny decimal system are
What is this?
I've been passionate about information, knowledge management, and PKM for more than 20 years. As a knowledge worker, author, blogger, and entrepreneur, I needed solutions to store and organize an enormous amount of information.Over the years, I've explored, used, and advocated many tools but have been using Obsidian extensively since last year. With the Obsidian Starter Kit, I offer you the result of my own research and experimentation. It's like a cheat code to jump straight to stress-free note-making.I've spent months refining and perfecting my Personal Knowledge Management (PKM) system, and have spent countless hours tweaking my system. I've published a few articles to share some ideas about this. My system combines the Zettelkasten approach, the PARA method, the Johnny decimal system, and other ideas to create a solid basis for my work as an author, blogger, and content creator.The Obsidian Starter Kit is a ready-made Obsidian vault that includes my recommended organization system and plugins, as well as example notes to help you get started. It also comes along with a user-friendly guide.
Join hundreds of happy customers now!
What's included?
If you buy the Obsidian Starter Kit, you'll get:
The Obsidian vault

A comprehensive and solid structure with support for Journaling and Zettelkasten

Leveraging the PARA method and the Johnny Decimal system

Many recommended plugins to boost productivity and automate actions

A clear system for Journaling, Meeting Notes, Periodic reviews, etc

Many templates to improve consistency and productivity

A powerful dashboard

Maintenance notes (e.g., find duplicate and orphaned notes)

Automation rules

Many examples

The user guide

Lifetime access to the Personal Knowledge Management community for support and knowledge sharing
In addition, you'll also get free access to all future updates. Over time, I'll expand it step by step to include tutorials about the various aspects; from exploration/curation to summarization and reuse.

What's in the user guide?
The user guide is a growing and evergreen knowledge base about how to take smart notes. It includes:
Installation instructions

Details about the contents of the Obsidian Starter Kit (i.e., Obsidian vault structure, key design principles, included plugins, etc.)

A clear overview of Obsidian and its core concepts (everything you should know and care about)

Obsidian tips and tricks

Clear explanations about...

1) The Zettelkasten method

2) Atomic notes

3) Progressive summarization

4) The PARA method

5) The LIFT principle

6) The Johnny Decimal system

7) Journaling

8) Maps of Content (MoCs)

9) Periodic reviews

10) Why and how to tag notes

11) Templating

12) The Markdown syntax

13) Why you need a single source of truth for everything

14) The collector's fallacy

15) The Inbox Zero principle

16) How to capture information

17) How to capture quotes

18) How to capture information about persons of interest

19) How to extract knowledge from daily notes

20) How to save mental contexts

What's in the video course?
The Obsidian Starter Course is a video course (~2h20) of content covering:
Obsidian: installation, user interface, key features, plugins, automation, tips and tricks, etc

The Markdown syntax

YAML metadata

Personal Knowledge Management techniques and principles: the Johnny Decimal system, the PARA method (e.g., the Zettelkasten method, the LIFT principle, Atomic notes, Maps of Content, knowledge capture & extraction, etc)

Journaling

Periodic reviews

Templates

Automation

Task management

Best practices and recommendations

Hands-on explanations

and more!

Evergreen content
The user guide of the Obsidian Starter Kit is expanding day after day, week after week. It will soon include:
More theory

Detailed processes

Additional how-to guides

More tips and tricks
The Obsidian vault also evolves over time:
The structure improves

New templates are added

New plugins are added

etc.

Refunds policy
If you're not 100% satisfied, then just let me know, and I'll issue a full refund. I'll only ask you a single question: How can I improve the product?If you think about asking for a refund, then consider reaching out to me with your issues, questions, and remarks. I'm always available and happy to help. My goal is to help you succeed.
Testimonials
"Finally clickeđ how awesome @Obsidian is! Thanks to your excellent Obsidian Starter Kit!"— Cal Desmond-Pearson (@CalSocialHermit)"Off and running w/ @obsdmd. I've installed the app & have @dSebastien Starter Kit & my own fresh start Vault open. Learning from former & putting into practice w/ real content in latter. So far, so good"— Raymond D Sims (@rsims)"Great content - got me up to speed with what I was looking for fast ! Sébastien answered some questions by mail also which was much appreciated ! Thanks"— Sam Gonzales"As someone who has bounced around trying to find the right Knowledge tool, I've realized that many of my issues have been related to the complexity of the tools and the processes. The structure, design and explanations provided in the Obsidian Starter Kit have finally given me the foundation I've needed. 100% worth it"— Michael Aaron (via e-mail)"I absolutely love your kit and it has been so immensely helpful"— Ashwin Appiah (via e-mail)"Thanks for making the product. I'm making efforts to start using Obsidian more in my daily workflow and having a place to start makes the task much less daunting!"— Liam Weight (via Twitter DM)"I'm very new to PKM, but the Obsidian Starter Kit has been a tremendous help in getting me started"— Fredrik Nordström (via the PKM community Slack)

Join us on Slack
The PKM community is a home for people interested in getting started or getting better at Personal Knowledge Management (PKM).Our intent is to create a space where lifelong learners can share ideas, workflows, tools, interesting articles, tips, tricks, and hacks about knowledge management and how to build a second brain.
---